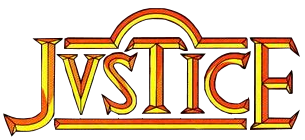 ---
Justice (John Tensen)


Characteristics
Real Name
John Roger Tensen

---

Alias
John Tensen, Whitey, Justice Warrior, Justice Killer, Justice Tensen, Net Prophet, Prophet of Thor

---

Relatives
Irene Tensen (wife, deceased); Angela Tensen (daughter)

---

Affiliation
Forsaken

---

Height
6' 2"

---

Weight
205 lbs (93 kg)

---

Eyes
Blue

---

Hair
White

---

Place of birth
Teaneck, New Jersey

---

Universe
Earth-148611

---

Origin
Paranormal

---
---
An enigmatic man of power emerges from the shadows to act as judge, jury, and executioner for those who would visit harm on the innocent. His name is Justice.
---
---
Ad blocker interference detected!
Wikia is a free-to-use site that makes money from advertising. We have a modified experience for viewers using ad blockers

Wikia is not accessible if you've made further modifications. Remove the custom ad blocker rule(s) and the page will load as expected.